My visit to the Bhuj-based Shree Navchetan Andhjan Mandal (SNAM) started off with an interaction with the staff at their recording unit cum Braille press. While Saraswati was typing out English textbooks that would be converted into audio books using JAWS software, once done; Komal was converting audio tapes into Braille. The efforts of both girls, over the past 2-3 years, has helped fill SNAM's library with 600 titles, especially for the visually impaired.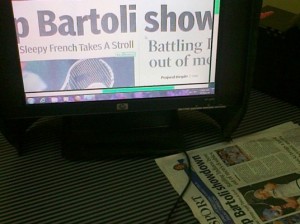 Yes, SNAM has a surprisingly well-stocked library for the blind. There's about 2,000 books in English, Hindi, Gujarati and Sanskrit for the children to borrow. You'd even find books in extra-large font that have been designed especially for the partially blind. But what I was impressed to find was a scanner that aids the visually-impaired to read the newspaper by scanning the same and reading it out to them. Quite an advanced piece of machinery to find in this far-flung campus!
The large sprawling campus has been designed for 240 boys; with a separate girls' hostel for 160 girls (located half a kilometre away). With 120 girls and 180 boys currently enrolled, there's tons of activity happening behind these walls. Post the recording unit cum Braille Press, we visited the Physiotherapy Center. After the fancy scanner in the library, I wasn't surprised to see the Physiotherapy center well-equipped too. Although with older models, it had all the equipment one would find at an urban center. The center caters to 25 patients daily, from whom they charge Rs. 200 for 15 days. It's a token amount that has recently come into play, primarily because they noticed many beneficiaries not taking the treatment seriously enough.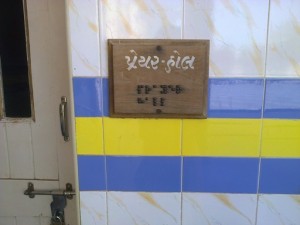 From Braille signage to ramps to special tiles on the floors to guide the visually-impaired, SNAM has been thoughtfully designed. Infact, they received the National Award 2006 for Creation of a Barrierfree Environment for persons with Disability as their building meets the right standards of being disability-friendly. I also learnt, walking through the campus, that the blue-yellow colour combination is one which partially blind people can see from a distance!
Setup in 1976, SNAM's aim is to provide education, healthcare and vocational training to the disabled so that they become productive assets of society and are in a position to earn their livelihood independently and confidently. This is why theirs is an inclusive school. "Having normal and handicapped studying together inspires confidence amongst the deprived," says their Founder Mr. Laljibhai.
The organisation boasts of 3 large campuses today ( 2 in Bhuj and 1 in Bachchau), all the result of years of hard work on the part of Mr. Laljibhai and his team. Tons of Gujarati families have donated large amounts of money over the years to make SNAM what it is today. Other supporters include CARE UK and The Times of India through its Earthquake Relief Fund of 2001. Foundation stones across their campus speak of their donors and what they have funded.
What's also interesting is how many individuals, post their retirement, are dedicating their time and efforts towards this organisation. Like Mr. Murujeebhai, who is one of SNAM's Trustees today. Visually-blind, Mr. Murujeebhai was a government teacher for the prime of his life; and now spends his retirement days at SNAM helping out. Like him, I met Mr. Karsanbhai, who is SNAM's Treasurer. Mr. Karsanbhai grew up in Kenya, worked abroad during the prime of his life and has now returned to his hometown Bhuj. He comes into the center for 3 hours every day and oversees Accounts, Admin and other odds and ends.
From physiotherapy to vocational training to an all round education, SNAM is certainly taking small efforts to help the disabled reach out to the world. What's most heart warming though is that that these much-needed facilities are being made available to the downtrodden in the far-flung villages of Kutch.
---
Established in 2000, Give is the largest and most trusted giving platform in India. Our community of 2.6M+ donors have supported 2,800+ nonprofits, impacting 15M+ lives across India.